June 6th 1944
EASY RED SECTOR
Event date: 20th April 2013 (Adolf Hitlers Birthday)
The objective is to get up the beach as fast as possible taking as little casualties as possible, Easy Red needs to be a quick and fast process, once you make it to the shingle get down keeping a ten meter spread from your comrades at all times staying as still as possible by the "Sandy" breach until further orders are given by higher command, the "Sandy" breach is the area of the shingle that is sand, this is where the engineer will get the Bangalores in place to blow a breach into enemy lines.
The Diagram shows where Easy Red Sector is located, We will be invading from the East of Easy Red Sector this is F16 making a move towards 16(Part) which is where the "Sandy" breach is located
Once past "Sandy" breach there is a series of obstacle's that can be crawled under that are designed to slow us down so MG's can get a clear shot, Easy Red is historically known for its lack of Armour support due to the Germans using Easy Red as an area of large concentration for Artillery just like Pointe du Hoc which were used to take out all the Armour Landing Ships. But luckily Easy Red is not well known for its Heavy MG emplacements but still packs a large punch to infantry.
From this aerial view you will see that when the beach is clear the inland is nothing but hedgerows and no urban cover can be used until the villages south of the area are breached
Good luck.
THIRTY SECONDS!
GO GO GO!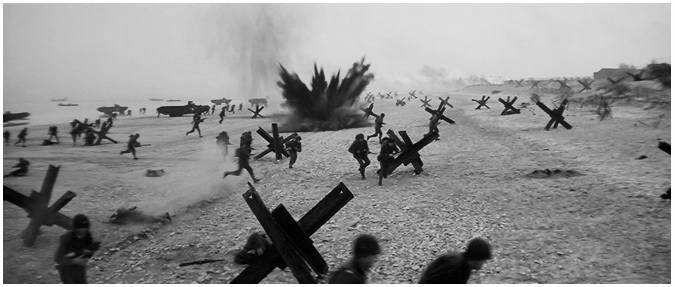 RUN AND GET TO THAT SHINGLE, DON'T STOP UNTIL YOU REACH THE SHINGLE!
Admin




Posts

: 30


Join date

: 2013-03-03


Location

: Cheshire, England, United Kingdom





Similar topics
---
Permissions in this forum:
You
cannot
reply to topics in this forum